Attachment Animations

Version 2.4.3 | Last Updated: 11-13-2018, 01:08 PM

Tags:
Shortlink:
Leave a comment
To leave a comment you must log in.
Hi Cpone, i keep getting crashes when i use more ammunition types from killerwolf and your mod the crash log is below.



Application has crashed: C++ exception
[string "lib/utils/inventorydescription.lua"]:877: attempt to perform arithmetic on a nil value



SCRIPT STACK

get_stats_for_mod() @mods/AttachmentAnimations/Hooks/inventorydescription.lua:33
show_stats() lib/managers/menu/blackmarketgui.lua:3935
on_slot_selected() lib/managers/menu/blackmarketgui.lua:6419
move() lib/managers/menu/blackmarketgui.lua:6441
move_right() lib/managers/menu/blackmarketgui.lua:6493
move_right() lib/managers/menu/menucomponentmanager.lua:1042
up() lib/managers/menu/menuinput.lua:711
update() @mods/BeardLib/Hooks/MenuInput.lua:123
update() core/lib/managers/menu/coremenumanager.lua:157
update() lib/managers/menumanagerpd2.lua:20
update() lib/setups/setup.lua:854
update() lib/setups/menusetup.lua:340
update() @mods/base/lua/MenuSetup.lua:6
core/lib/setups/coresetup.lua:540


-------------------------------

Callstack:

         payday2_win32_release  (???)     ???                                                 
         payday2_win32_release  (???)     zip_get_name                                        
                           ???  (???)     ???                                                 


-------------------------------

Current thread: Main


Cpone
07-13-2018, 09:26 AM
@
SPITSPHIRE
Yup I have that installed so I don't think it's that. unfortunately no. whenever the freeze happens no crash log is generated.

just out of curiosity have you tried it with killerwolf's Vertical Grip Attachment Pack?
that's the last mod i can think of that could be causing it. (ill be reaching out to him next)
Cpone
07-12-2018, 09:15 AM
@
SPITSPHIRE
I have no issues with the sight. Do you have a crash.txt?
Cpone
07-12-2018, 08:34 AM
@
SPITSPHIRE
I'll investigate and try to see what might be going on. hay m8 i hate to ask this but since around the time you updated this and the UBGL mod i've been getting crashes when attaching custom sights to certain weapons and i was wondering if this mod is causing it.

an example of this is when trying to attach the leupold deltasight by >:3 to the 5/7 ap pistol confirm that this version fixed the problem. 

thank you so much for the fix Cpone and sorry if it seemed like i was spamming with the messages i was just freaked out as to what was happening. lol :) since the newest version anytime i fire a weapon at an enemy i get fps drops down into single digits. 

please for the love of god fix this, it makes the game unplayable!
This works with the Crosskill, but for some reason it doesn't seem to work with the standalone M1911 mod
Nvm, I just installed this and the reloads are now working. *facepalm*
Cpone
05-17-2018, 04:12 PM
@
BlazingDiancie
What do you mean? Underbarrel Weapons Pack already makes heavy use of this.
Can you do this for the Underbarrel Weapons Pack?
Hi! I have
this
 mod, is a custom model (x, y, z) of the M203 which fits in the JP36. Is posible fix the position of the left hand? So that the hand does not cross the GL when holding it
(Sorry for the f*cking bad english)
I meant other weapons with transparent mags
Well, I checked and found that weapons with transparent mags will follow animations of other transparent weapons, for example, G36 with HK416c animations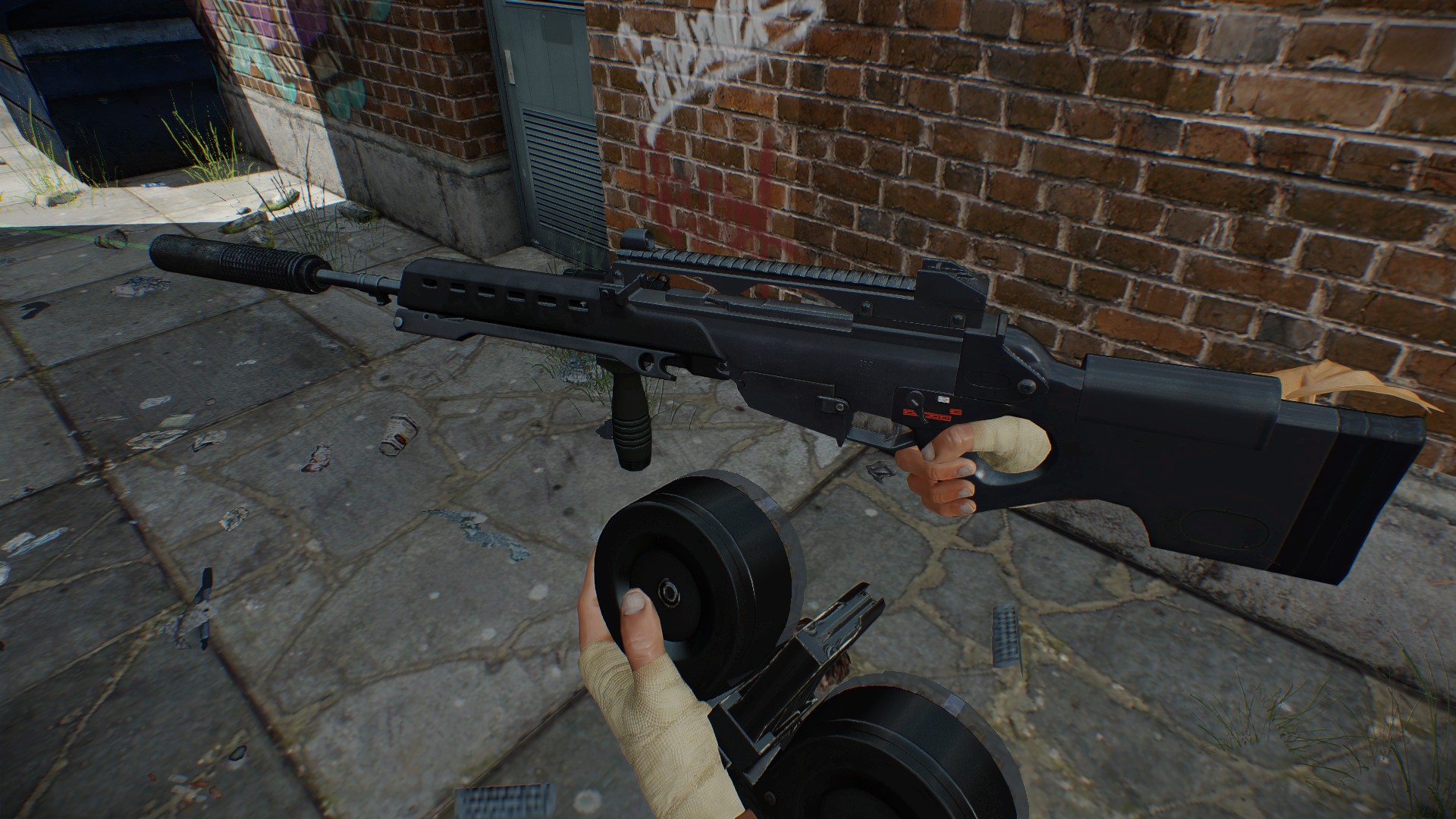 can you make for the c-drum mag mod?
maybe you can use the bootleg rifle
@Silent Enforcer,Cpone: Nope most of animation data is stored in weapon base and changing magazine bases wont fix anything.
Cpone
02-23-2018, 11:12 AM
@
Silent Enforcer
 That didn't even cross my mind. I'm assuming all that would need is to take the drum mag and then recompile it using the mag model from the gun that the animation is based off of.
I think before you add support for more mods, mods it's self shoud be updated, for example saiga drum mag model is based on normal saiga magazine and will not follow new animathions, to fix it the base of the saiga drum mag model should be changed to RPK or AA-12.