Attachment Animations

Version 1.3.1 | Last Updated: 05-15-2018, 12:07 AM

Tags:
Shortlink:
Leave a comment
To leave a comment you must log in.
Nvm, I just installed this and the reloads are now working. *facepalm*
Cpone
05-17-2018, 04:12 PM
@
BlazingDiancie
What do you mean? Underbarrel Weapons Pack already makes heavy use of this.
Can you do this for the Underbarrel Weapons Pack?
Hi! I have
this
 mod, is a custom model (x, y, z) of the M203 which fits in the JP36. Is posible fix the position of the left hand? So that the hand does not cross the GL when holding it
(Sorry for the f*cking bad english)
I meant other weapons with transparent mags
Well, I checked and found that weapons with transparent mags will follow animations of other transparent weapons, for example, G36 with HK416c animations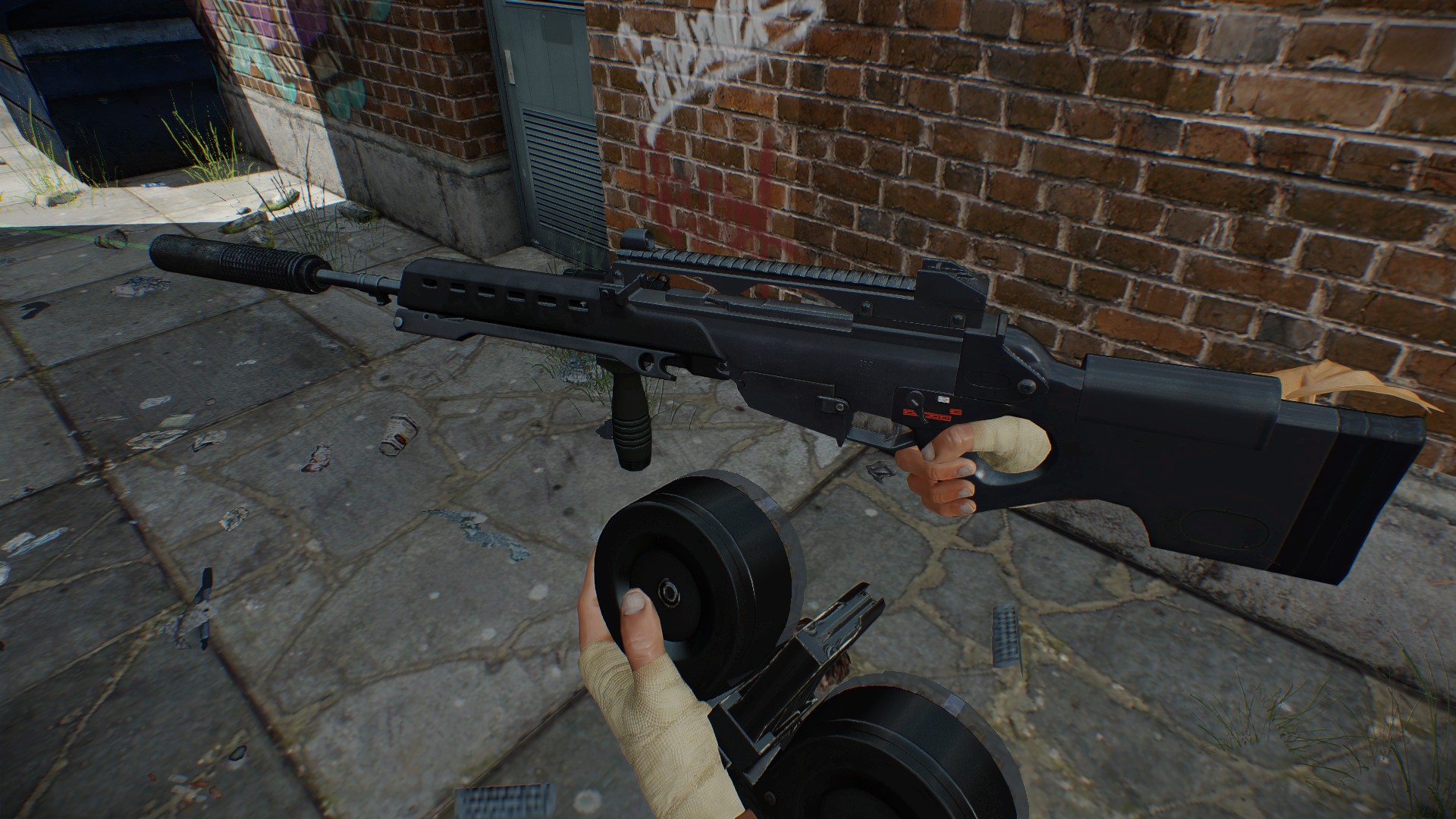 can you make for the c-drum mag mod?
maybe you can use the bootleg rifle
@
Silent
Enforcer,Cpone: Nope most of animation data is stored in weapon base and changing magazine bases wont fix anything.
Cpone
02-23-2018, 11:12 AM
@
Silent Enforcer
 That didn't even cross my mind. I'm assuming all that would need is to take the drum mag and then recompile it using the mag model from the gun that the animation is based off of.
I think before you add support for more mods, mods it's self shoud be updated, for example saiga drum mag model is based on normal saiga magazine and will not follow new animathions, to fix it the base of the saiga drum mag model should be changed to RPK or AA-12.
After trying to recreate it, I just doesn't seem to show up anymore. Atleast in version 1.1
@
Cpone
, It's not an issue of me removing it, It's an issue of not having the M1911 attachments installed initially. I originally wondered if it was that medic mod that was released earlier today but after installing the M1911 attachments I didn't have the pop up when I go back tot he main menu
Cpone
02-22-2018, 07:19 PM
@
Sir Cat Ina Hat
This shouldn't cause save issues as all it does is add some extra tweak_data values and change the way one of the classes handles retrieving tweak_data. This shouldn't have any effect on your saves. What is most likely happening is an issue with the M1911 Attachments themselves. What I recommend doing before removing the mod is to make sure that you remove the custom attachments from any gun that has them equipped.
@
Cha- Charger
Not a code rip from RAID. I don't actually know how raid does it as I don't think any code for the game has been released.
"engine doesnt allow it" take 4003-.-

gj though^^
..........your pretty good......->->
Why is it corrupting my game when I don't have the 1911 attachments installed? That is a big issue for me since if I don't want to have a mod installed that supports this my game will not save and all progress is reset to last known