Stamina Circle Standalone

Version 1.2 | Last Updated: 05-05-2019, 11:38 PM

Tags:
Shortlink:
Leave a comment
To leave a comment you must log in.
Rusya
05-11-2019, 03:17 PM
I have a suggestion,would be great if it possible,so...could you make a hud icon,that showing infinite ammo sign,when you take ammo with skill ''Bullet Storm''? 
Like on picture below (yes,it is from HoxHud,remember this?)
: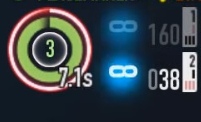 Rusya
05-06-2019, 07:13 AM
Many thanks
Rusya
05-05-2019, 02:08 PM
Wow i thought you know about it,but okay,will be waiting for fix
@
Rusya
Sure, I didn't even realise it affected teammates. This is an oversight on my part. I'll add this in the next day or two, probably.
Rusya
05-04-2019, 10:18 PM
can i disable those circles for my teamates?
Nepgearsy Hud Reborn support?
@
Matt (7)
Thanks for the report. I'm guessing this is a compatibility issue related to mod loading order, but in any case it should be fixed now. (Edit: Make sure to re-download the mod manually, as it does not support BLT auto-updates.)
@
Schmuddel
Thanks! I definitely agree, modular HUD components are the way to go. 
@
BlazingDiancie
Sure, I'll make one that works with other HUD mods like VoidUI whenever I get the time.
@
Mr. ZUCC
You can look at the screenshots for yourself. There is a screenshot that shows what it looks like when you have Hysteria stacks and the stamina circle.
Great work on this, the trend of modular HUD enhancements is really helping users break away from complete HUD overhauls like WolfHUD.
does this clip with hysteria stacks??


Can you make a custom one of these for VoidUI? It is the one thing the hud is missing.
could u make it separate cuz inside hp circle might be numbers like stoic countdown or downs left or ex president hp and i think it will not be clearly visible with custom hp circles
anyway good work man
kden
11-01-2018, 01:38 AM
aw thanks my friend