Team Review

Version U6 | Last Updated: 10-08-2018, 06:12 PM

Tags:
Shortlink:
Leave a comment
To leave a comment you must log in.
What's wrong with Crew Chief?

Legitimate question.

"blabla is using crew chief"
What's the problem ? People can't mess around and have fun ?
@
ShiNRaX2
Seems like a good idea. Thanks for the suggestion.
@
andole
could you add the 5-7 as weapon capable of killing winters? even without crit build it works pretty well
@
NewPJzuza
Yep, I know about this. Will fix on weekend or next week along with adding a couple of other things.
Hi again. Sorry for the late feedback.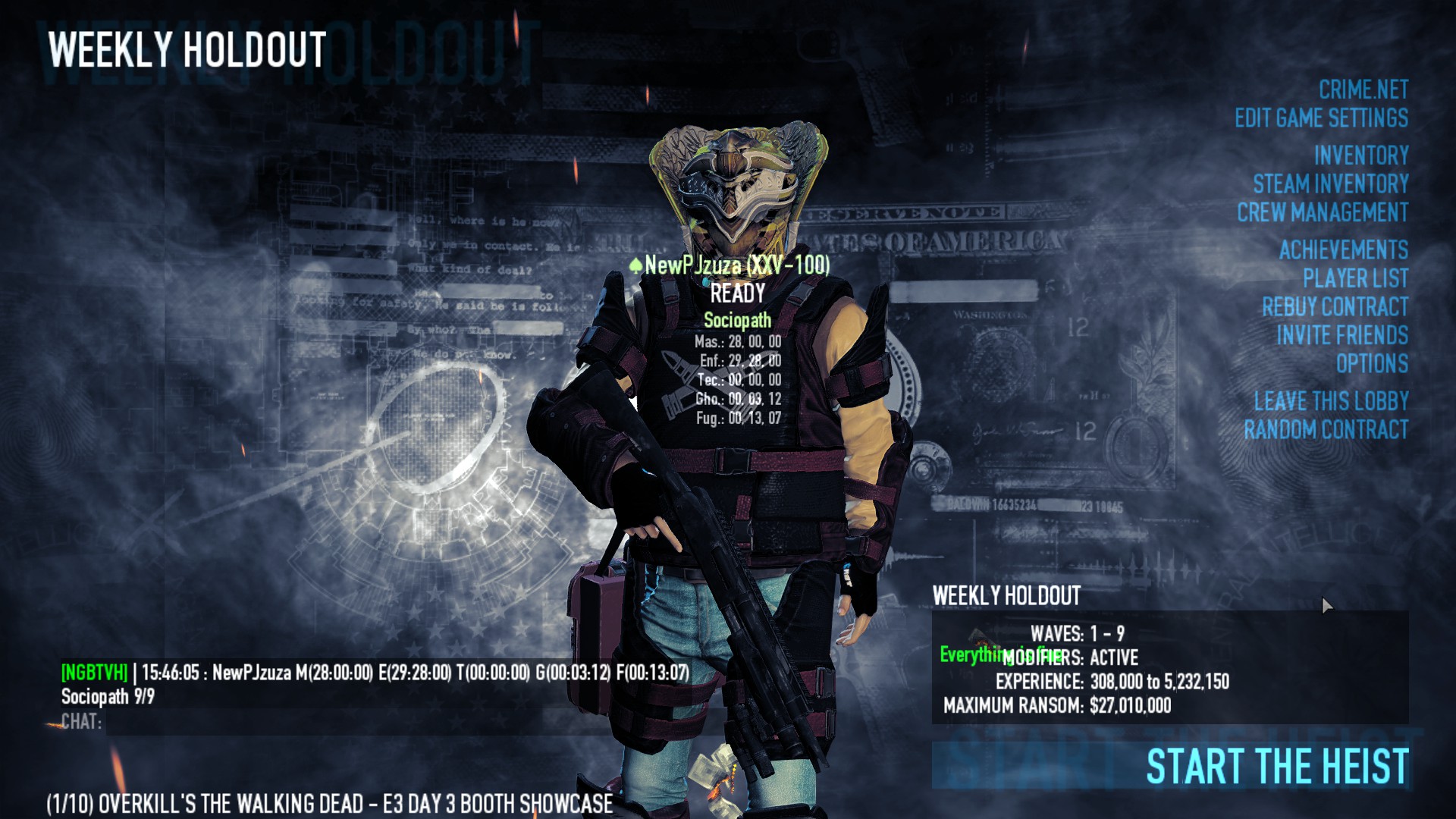 It seems the Holdout mode can cause some text's overlapping to Team Review mod. But other are great and working as you intended though :D
such a good mod
@
Iamgoofball
Those are public lobbies, they are not my friends.
you know, showing off pictures of your friends in the lobby breaking the anti-piracy rule is probably a bad idea
Hi. Nice mod. I really like it but it seems this mod is incompatible with another mod called:
Random Contract
 If you can make it usable both of them then it would be great.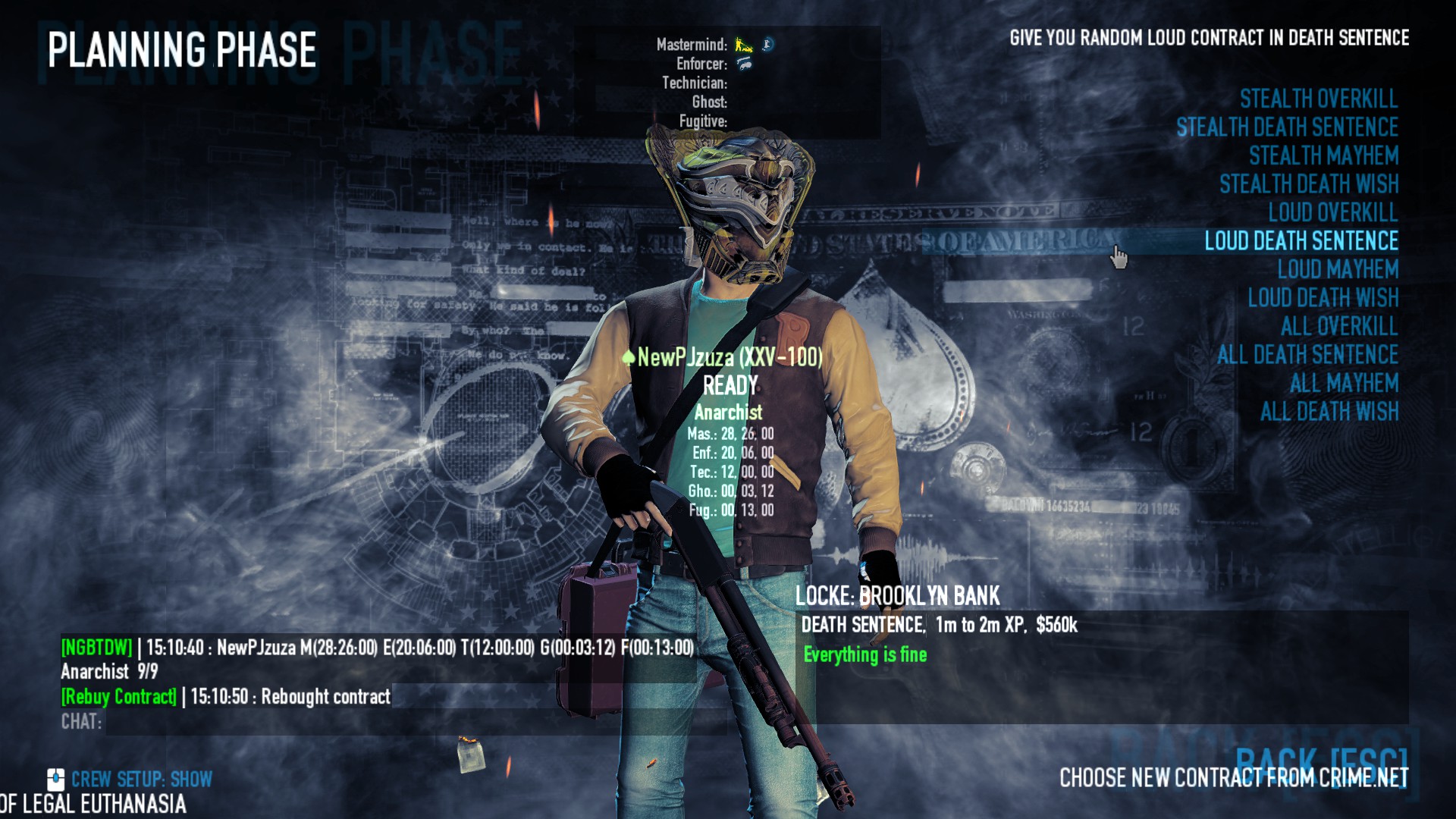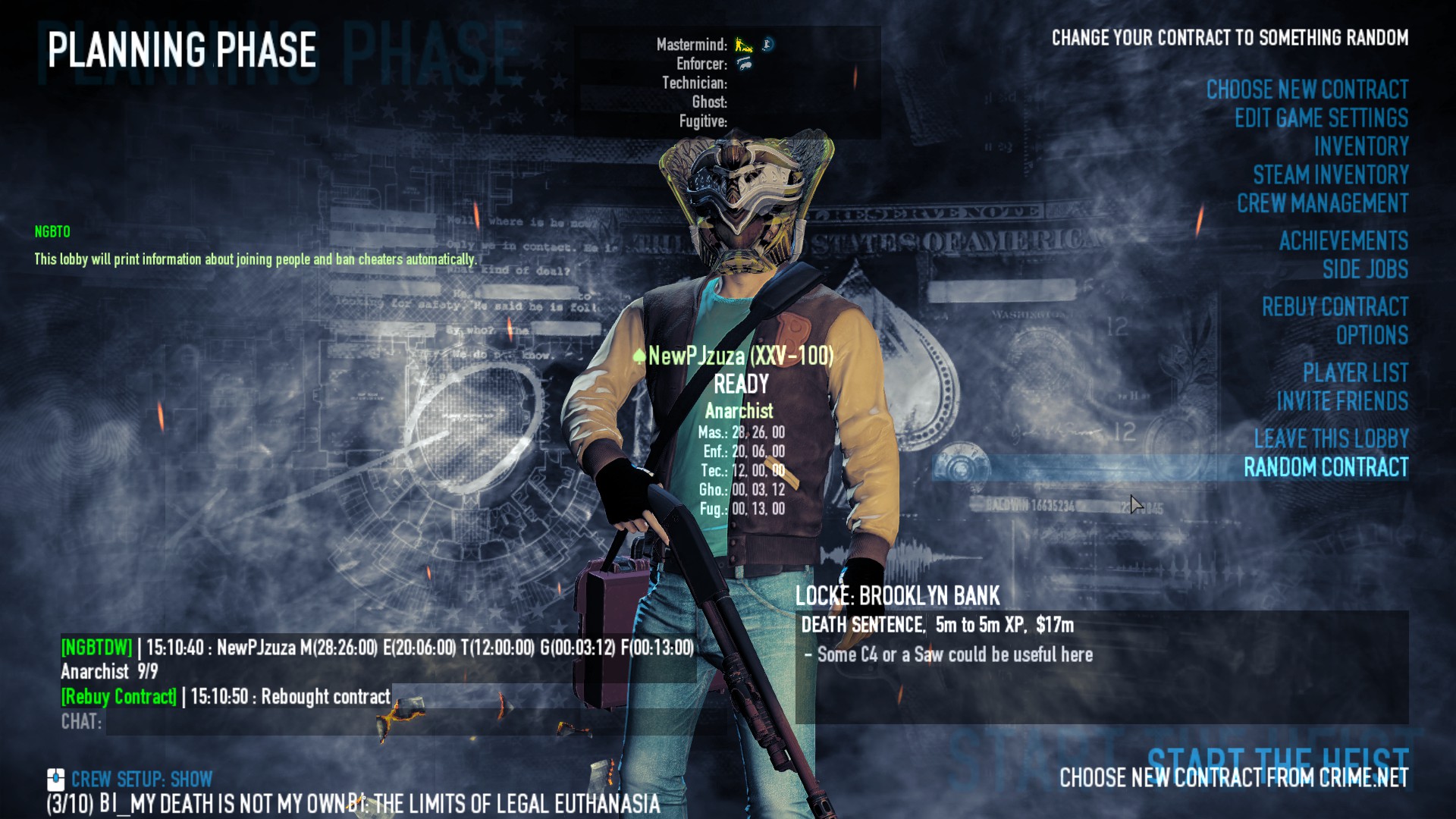 As you can see from those 2 pictures. I used Random Contract mod in the second picture to get a random heist but the name of the heist before and after I have used Random Contract mod is still the same.
Note: Random Contract mod in the picture is the modified version which I've changed only the name of One Down difficulty into Death Sentence difficulty and I've added my Thai translation into it and nothing else :P
@
(Gk) Erasels
Keep in mind that the mod only gives you a tip. It kind of says 'hey, do not forget about this'. And so if it tells you to get more survival skills it does not mean that you have to. It only reminds you that if you get down it would mean custody for you, unless you are playing with team AI (I should probably add a check for that). There is no need to try to reach that 'everything is fine' message.
I see the problem with shotguns. Seems like it will be alright if the mod considers dragon's breath shotguns not to be shotguns (because they can be used quite well even without the reloading speed skill).
I don't quite understand the use of the "It would be wise to get more survival skills when playing solo" info. 

I can run inspire, uppers, hostage taker, ICTV, etc and a great perk deck but it still throws this because I didn't skill into the fugitive death tree? This seems to exist for the sake of having something written instead of being helpful.

Anyway, I feel like the shotgun without perks warning is a little overtuned. If I read it correctly it checks if you've invested more than 12 points into the shotgun tree and if you haven't, it throws the warning.
This will get triggered if you're using a dragon's breath shotgun build which only really needs the reload speed from this tree. I'd recommend reducing the threshold to something like 7 or 9 to prevent false positives in the aforementioned case.

Here are some grammatical corrections:
'- More than one player is using Maniac'
'- There are no Doctor Bags' (Alternatively you could change it to something like '- Nobody is bringing Doctor bags'
'- There are no good weapons to fight Winters with' But I'd really recommend changing it to something like '- Nobody is using good weapons to fight Winters with'
'- There are no ammo bags for the Saw' or alternatively '- Nobody is bringing ammo bags for the Saw'

Now that all of that's done with, thanks for creating this mod. It works very well together with LPI to help you understand what teammates might be problematic on Mayhem+

@"zadiraka ► zeis"
Fixed. The mod used to check the wrong skilltree.
mod speak that i do not  Nine Lives , although i have it 
It kind of works with LPI. Sometimes UI elements disappear but if you go into your inventory or wait a little they'll come back.

Some elements flicker from time to time but it's not overly annoying. It's amusing to see how dysfunctional builds fall off sharply after OVK.
@
Dave Bluetista
I cannot tell for sure. You will have to try using it with LPI and see how it goes.
Is compatible with Lobby Player Info?

How do you not go insane with this mod playing in pubs? I would in less than 2 hours. I know people are mostly brainless morons and they will waste points on skills they can't even use, but at the very least it's hidden/implied. With this...hoo, boy. 
@
VxWolf
Every message in this mod is arguable. That's why I am planning to make an options menu.
It treats you as any other player in the lobby, so yes, it tells you what is wrong with your build. It also checks for Revenant skills when you are alone in the lobby on difficulties above Overkill.