Team Review

Version U7 | Last Updated: 11-16-2018, 08:57 PM

Tags:
Shortlink:
Leave a comment
To leave a comment you must log in.
I did White House stealth and the mod doesn't recognize WH has stealth as an option. Pointed out using stealth build in red and such.
@
Spikeruth
The mod considers a player to have shotgun skills if he has spent at least 12 skillpoints into that subtree. You will only see that message when both your primary and your secondary are shotguns. In that case you should not play without powering up your shotguns with the skills.
Shotgun Impact isn't considered a shotgun skill. I got the message that I was using shotguns without shotgun skills and got really confused.
@
ShiNRaX2
That would be very nice of you. I would prefer you to simply send me the files.
@
andole
i gonna add german localization to the mod
do you have this on github? or should i just send you the files?
@
Penitence
When you click 'ready' you always appear at the host's position. So safe/unsafe status depends on the host's suspicion meter. If the host is being detected by a guard or a camera then 'not safe' message is displayed.
Interesting mod, I like the idea. Especially really like that it can say it's not safe to join a stealth mission, is that message dynamic? How does it differentiate between safe and unsafe?
You should rename this mod as "gatekeeping"
Crew chief is a good perk.
@Cobalt Lightning 
its probably because you cant stay out of custody on DS-OD when playing fair with this perk.
What's wrong with Crew Chief?

Legitimate question.

"blabla is using crew chief"
What's the problem ? People can't mess around and have fun ?
@
ShiNRaX2
Seems like a good idea. Thanks for the suggestion.
@
andole
could you add the 5-7 as weapon capable of killing winters? even without crit build it works pretty well
@
NewPJzuza
Yep, I know about this. Will fix on weekend or next week along with adding a couple of other things.
Hi again. Sorry for the late feedback.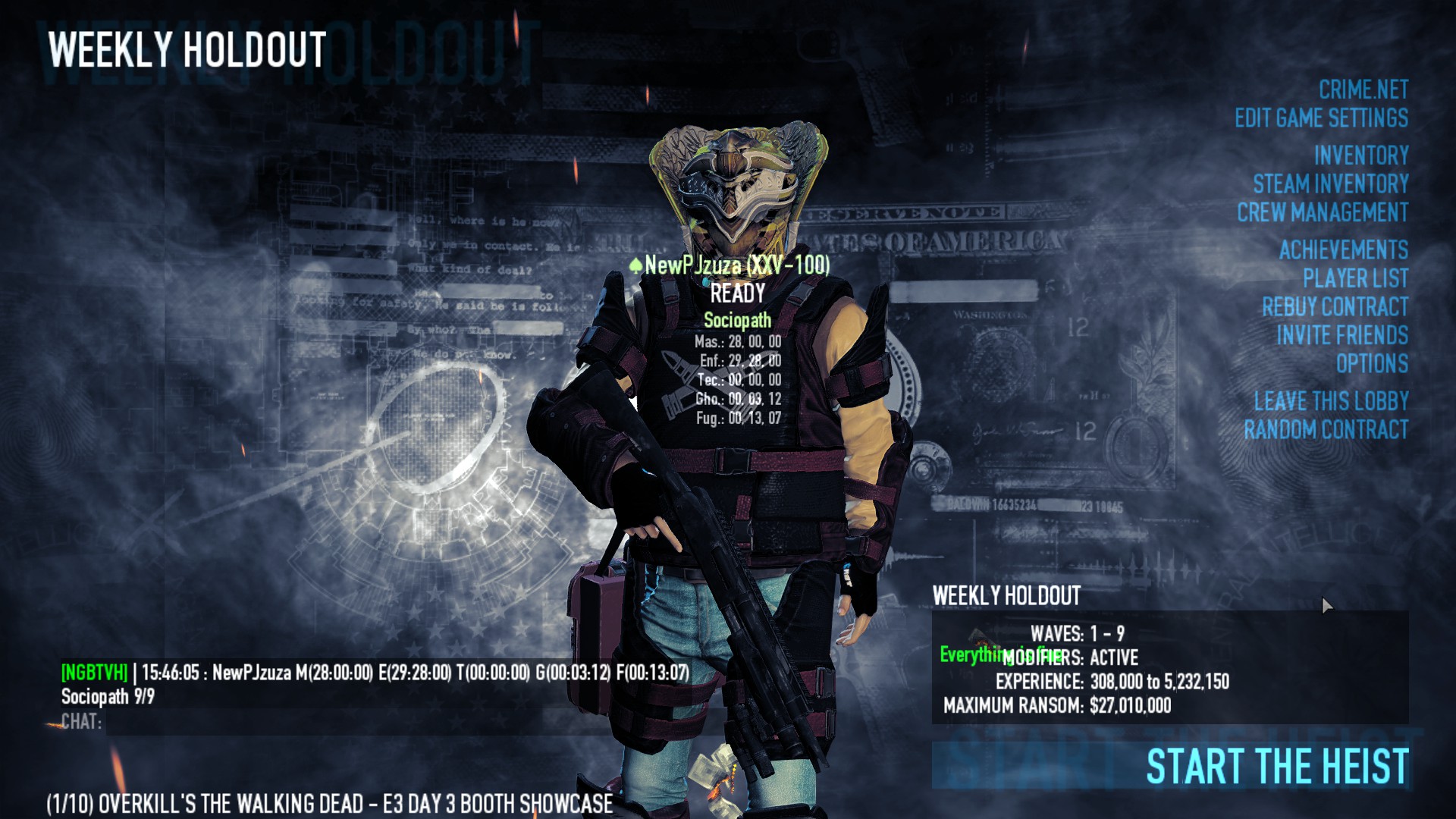 It seems the Holdout mode can cause some text's overlapping to Team Review mod. But other are great and working as you intended though :D
such a good mod
@
Iamgoofball
Those are public lobbies, they are not my friends.
you know, showing off pictures of your friends in the lobby breaking the anti-piracy rule is probably a bad idea