L85 Various Attachment (Queen's Wrath)

Version 3.02 | Last Updated: 11-28-2019, 04:11 AM

Tags:
Shortlink:
Leave a comment
To leave a comment you must log in.
Can you make the barrel work with the versatile foregrip?
Request: can you make a working bipod for the minigun :D
@
EbonTheLord
Probably can use RS2 Vietnam asset, but idk
40 in mag for LMG sounds insufficient
Great mod, thanks for the work you put on it. But I found some glitches while I was modifying the weapon and, since lmgs had a damage buff by overkill, I suggest to put this on the magazine mod
@
Alcat101
yeah i like this idea , soo good luck and Im wait for it :D
@
Gramas
I can make the double drum mag, as the asset is available inside..
The sight, I could probably combine Surgeon Sight with Carry Handle
The bipod is something I have to look into
It sounds great for a mod idea
Hello is possible to make something like that ?: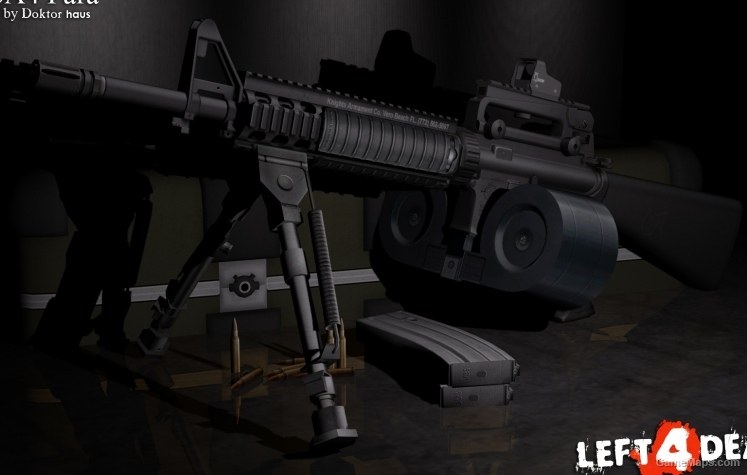 So is deploying bipod capability can be applied to Assault Rifle?
If you knew how to code that in, (send help pls)
Great job!
@
Jalswim
I could make it as a standalone, but it'll just have the same stat with Quadstack Mag
Since it's kind of redundant, I decide to just override the model.. (I also dont really like using Quad Mag due to it's bulky size, so yea)
I love the drum mag, but would it be possible to add the drum mag as its own custom modifcation?
Alcat, I have that sorted - just give me a bit to be finished whatim up too here, add me on steam or whatever and ill throw it at you
Adding bipod is possible
But it'll be just a static model (protracted bipod), and there won't be animation when the player are deploying it.

Also it'll need more code, which I don't have the knowledge of...



So its impossible for the current me to add it.
well if you change the category of the weapon direct to lmg or take the same 3d model and create a custom ? 
Bipod's not really possible atm I guess.
It'll need animation tool for that, iirc.

Yes, this weapon is able to reach 100 Stability. If you got the necessary skill and modification.
This mod decreases the base stat of Queen's Wrath accuracy, damage, and concealment.