Death Wish+

Version 5.3.5 | Last Updated: 10-28-2017, 11:51 PM

Tags:
Shortlink:
Leave a comment
To leave a comment you must log in.
Idk, just want to try it out, because dw and ds is boring.
Ellie
11-24-2018, 07:38 AM
why would you use this mod lul
I dont know why, but my game crashes at the start of UE vid. And if delete BeardLib, then it works normally, i don't know, maybe problem's on my end. I even reinstalled game, still don't works.
Ellie
04-23-2018, 08:11 PM
given the other mods you made and ive seen you use in game i wouldn't give a lot of legitimacy to that screenshot
Lowko
04-23-2018, 07:28 AM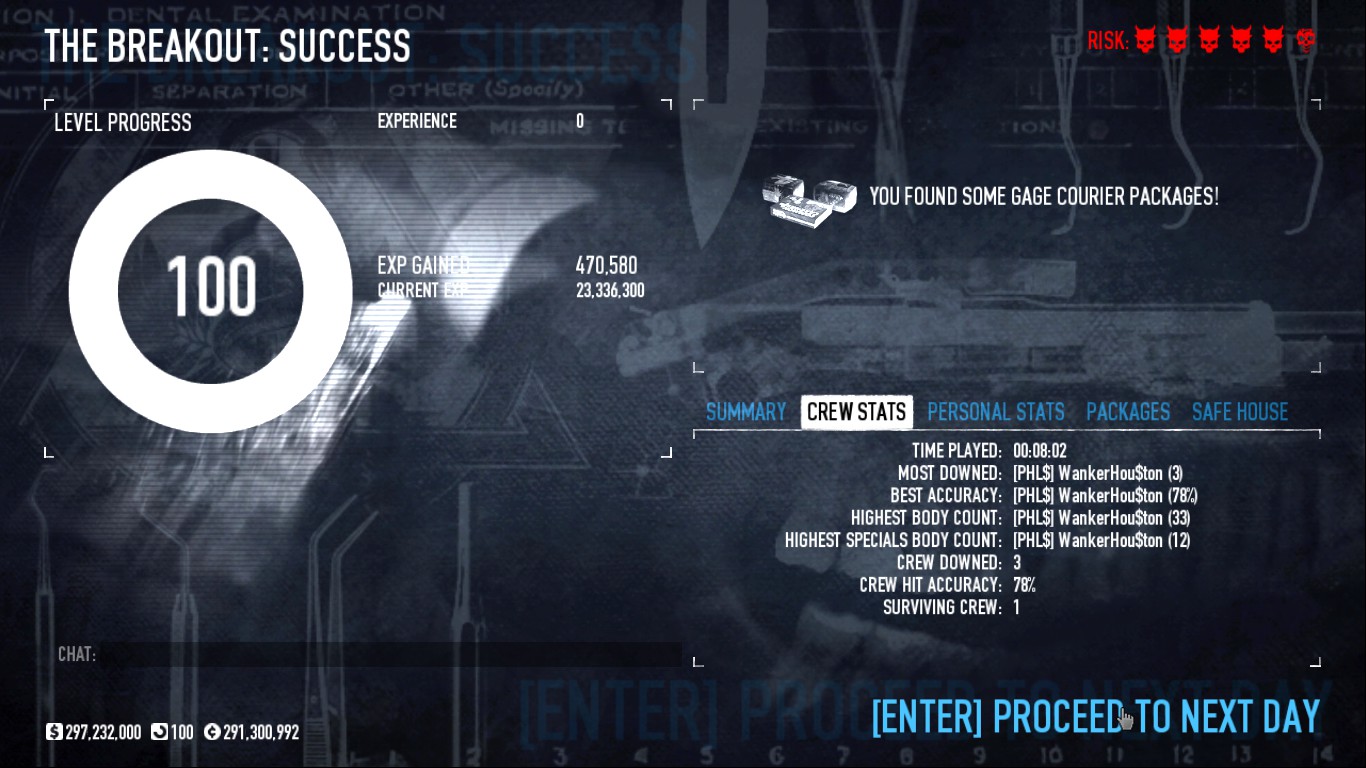 Pls fix 
Ellie
12-02-2017, 06:28 PM
whenever i care enough to update
so dont get your hopes up
zombie units support in death wish+ when? xd sorry for asking but yeah that would be nice to have because when i play ascencion or cursed kill room using death wish+ as difficulty then i get a crush when zombie units spawn
HOLY SHIT

DID YOU ADD MINIGUN DOZERS!?
lmao miss ellies the greatest
Buddy
09-09-2017, 09:20 AM
Hey, the mods showing up when I go into the mods tab in payday 2 (in game not in the files) but no option for me to change anything is coming up, why is this?
Application has crashed: C++ exception
[string "lib/units/enemies/cop/huskcopbrain.lua"]:75: attempt to index local 'my_load_data' (a nil value)



SCRIPT STACK



-------------------------------

Callstack:

         payday2_win32_release  (???)     ???                                                 
         payday2_win32_release  (???)     ???                                                 
         payday2_win32_release  (???)     ???                                                 
         payday2_win32_release  (???)     zip_get_name                                        
                         ntdll  (???)     RtlAllocateHeap                                     


is the main directory in the local files
Ellie
08-07-2017, 09:56 PM
Read the description next time.
where do I put the file??
Ellie
07-09-2017, 02:47 AM
the mod is only active on dw and od, and uses different hp values because i dont believe in blanket health changes to make things harder like overkill does