THIS PAGE WILL NO LONGER BE UPDATED, BUT PAYDAY 2 HYPER HEISTING HAS A DISCORD SERVER! CLICK HERE! TO JOIN IN AND KEEP UP WITH NEW UPDATES TO HYPER HEISTING!
PAYDAY 2: Hyper Heisting is a rebalance mod inspired partially by Vanilla's gameplay, with a simple goal: Non-stop horde-based violence against extremely fast reactive AI!
"WHAT'S THE BIG DEAL? WHY SHOULD I CARE?"
PAYDAY 2's current Vanilla balance is troubled by a variety of issues, between the lackluster enemy-side balancing, the occasionally broken mechanics, the lacking enemy AI and the player-side stuff all being a complete mess, Vanilla has too many problematic design decisions to have the same enemy count as it does right now, 108 enemies on the map slows the AI performance to a crawl, and the damage on Death Sentence makes it so that the meta is heavily enforced to the point of making other options completely non-viable.
There's also a variety of problems with Vanilla's enemy assets all being significantly broken for it's many alternative factions, and the lack of unit-variety that was present in the game's earlier life-span.
Hyper Heisting touches up on player skills and perkdecks, enemy balance and appearances, and even straight up overhauls various systems or gamemodes while still keeping that "Vanilla" touch to all of it!
BEGONE, CHEAP, TANKY ENEMIES!
Enemy health and player weapons have been tweaked to provide a fair balance between all weapon tiers, provided you have the raw skill to make it compete with other weaponry, even utility/backup weaponry which usually can't kill anything is now capable of doing it's job properly!
Medics, Cloakers, Shields and other light-weight units now not only LOOK light, but have health that fits them as such!
Bulldozers have had their faceplate health fixed to be much stronger, and representative of their stature!
No more enemies that can instantly break armor and then kill you in one hit! All enemies have been rebalanced to prevent unreactable situations in semi-close range encounters, and have had their accuracy, aim delay, and damage tweaked to ensure minimal situations of sudden unreactable damage!
However, don't expect EVERYTHING to be easier! Getting melee'd by an enemy will now STAGGER YOU!!! Removing your ability to fire momentarily! Keep your distance!
SWAT Turrets have been rebalanced and some of them given entirely new behaviors! Turret damage, health and shield health were all changed to be more bearable, and make for an entertaining mini-boss, and on higher difficulties above Hard, the AA-Turrets in Henry's Rock and the Crate Turrets in Murky Heists have a different firerate, higher damage and higher suppression, to make them harder but less frustrating, and more of an interesting dual boss fight! (Sadly, their firing sound doesn't match, but, those are the sacrifices one must make for cool as heck ideas and good videogame balance.)
PROXIMITY EQUALS DANGER, NUMBERS EQUAL THREAT!
A big issue with PAYDAY 2's current state is that a single enemy that's 30+ meters away from the player is often enough just as threatening as having 30 of the same enemy at the 10m range, this is due to outdated design principles that are not rooted within the present game's balance, there used to be a lot less enemies back when PAYDAY 2 first begun, and even now, signs that enemy numbers should be less are clearly visible within the enemy balance.
Hyper Heisting's enemy accuracy and focus delay are BUILT to work with the horde, with grouped up enemies being significantly more threatening and more likely to hit you than a single straggler very far away from the fight!
Enemy suppression has also been reworked to take into account the high enemy numbers, and no longer feels strange or inconsistent, certain enemies suppress more than others and have easily recognizeable differences in levels of suppression!
NEW BEHAVIOURS, BETTER AI!
Many changes have been made to some parts of the game's enemy artificial intelligence, enemies will now generally feel much, much smarter, with much more frequent movement from cops, see them dodge way more often at higher difficulties, and continuining to open fire while doing so!
Quicker reactions, aiming, positioning, and choices from the enemies will keep you on your toes, and make PAYDAY 2's slow, bulky enemy intelligence feel fresh again!
Enemies now use functionality for hurt animations, for satisfying staggering behavior, and on higher difficulties, will do different kinds of dodges that are quicker, and allow them to keep firing while dodging, leading to less enemy down time!
They're tough, and used to fighting, the FBI Veterans and white-shirts who originally were featured before the Housewarming Party update have been brought back, and given a new purpose, they are now "Ninjas"! They're exponentially stronger and more powerful than the regular SWATs featured in every difficulty, having the accuracy, dodges and damage from one tier above them!
With permission from the Restoration Mod team's Reno, this mod features new enemy chatter, making cops react to player behavior and their own tactics for extra flavor! Hear the cops announce their charges, flanking, retreats, positioning, and more!
Enemies now fire their weapons at proper full-auto, and on higher difficulties, gain upgrades to their mag size and firerate to complement their preset changes, their constant tracers and muzzleflashes help them convey their location and prevent cheap deaths from enemies you didn't see! It also looks fucking awesome! A proper, full scale shootout!
Enemies at higher difficulties will procedurally gain new tactical advances! Watch the law enforcement forces:
Adjust the speeds at which they approach based on your distance, height difference, and their personal tactics!

Attempt to flank your general area and set up deadly ambushes!

Position themselves behind shields as often as they can to protect themselves!

Perform hit and run tactics to minimize contact! *

Attempt to maintain a safe but effective distance with rifles! *

Abuse things such as your reload time, you fixing a drill, or changing weapons to deliver heavy fire! *
Assumes highest difficulty
BETTER, QUICKER, SMARTER SPECIAL ENEMIES!
Specials in PAYDAY 2 currently have a few issues related to direct AI management issues in the core game, and some of it is just bad design, some specials are coded with sort of flimsy and overly strict code that ends up with them not doing their special attacks or being inconsistent with how often they do them, Hyper Heisting adjusts this by re-coding parts of the special enemy attack code to make them more active than other enemies and have them execute special attacks much, much more often! AND THEY HAVE NEW BEHAVIORS!!!
Medics can no longer heal other medics, and whenever they heal a friendly unit, their location will be revealed...but their healing has gotten buffed! It no longer forces them to stay still, and it now makes their teammates temporarily invincible! This duration gets longer at higher difficulties!
Tasers now deal direct health damage when tasing players! Their electrocutions now leave permanent damage if your armor is broken while being tased, and getting tased into the ground now counts as a down! Leaving you writhing in electricity before you get up!
Cloaker kicks no longer instantly down players...but deal 50% of their HP, and now count as REAL downs!!! They also send players FLYING away when kicked, staggering the heister from using their weapons for a full second!
Shields now move at higher speeds to catch up to their fellow group members on all difficulties, allowing them to properly cover their teammates, and their teammates will ACTUALLY attempt to position themselves near the shield, and on Death Sentence, wear body armor which makes it harder to flank them from the sides!
Bulldozers on lower difficulties, they will prefer to walk more often when in combat, and near the player, however, at higher difficulties, they'll will run and close the gap more often!
They have also had their weapon usages rebalanced to make them all especially threatening in their own ways, for example, the Medicdozer now moves faster than his fellow dozers to compensate for his light weaponry, Saiga and LMG dozers will fire at full auto according to their weapon, and yes, even the Minigun Dozers behave differently and have a different purpose, unable to aim his weapon upward or downward, but dealing incredibly high amounts of damage at higher distances, with a consistent firing pattern!
Enemy snipers have been thoroughly reworked, and given a semi-auto rifle (That looks the complete same to trick you, definitely), which initially starts inaccurate and quickly gains accuracy, suppressing armor regen on near-misses and dealing significant damage while the player is in it's line of fire, his firerate increases the higher the difficulty!
BETTER SPAWNGROUPS AND ENEMY COMPOSITION!
If you thought Mildly Alarming Enemy Spawngroups was good, this mod also has it, and tweaked to suit it, with special enemy limits, lower difficulty spawngroups and other things changed to match, medics now spawn in lower difficulties and have been made more common between special enemy spawngroups, enabling Bulldozers, Tasers, Shields and other types to survive much, much longer!
Shotgunners are back, bringing their own, close-ranged danger and aggressive tactics to keep you moving!
Punk enemies, weaker than weak, now spice up the spawngroups and give...not-that-much needed back up for their faction! Watch overly bold first-responders, GENSEC security officers, and MiB (attempt to) assist the main SWAT force in taking down the PAYDAY gang!
With some help of the Restoration Mod's members (including the previously mentioned Rino, who helped me with the chatter), and some of my own, fancy, glow-in-the-dark designs, the ZEAL team now has a complete roster of light and heavy enemies! See the fancy neon high-tech look of the zeal team!
And with the help of Rickerus, the Murkywater squadrons have been re-vitalized with new models and include: Armorless Heavy variations for Normal and Hard, Veteran-enemy types, reworked special unit appearances to help identify them against the other enemy types and various bugfixes!
The Federales and russian mercenaries have also gotten sleek new looks to match Hyper Heisting's enemy style as well, so check them all out!
A REAL, FULL-BLOWN ASSAULT!
Assaults in Vanilla have ONE unforgiveable flaw for a horde-shooter, in my opinion: You don't really have to kill anything. You can just keep running away forever until it's over, and clear out the enemies slowly while still completing mission objectives, this makes high-mobility builds (aka dodge) excel and makes it so you can easily cheese assaults by finding spots in which enemies cannot get to you...NO LONGER!
Assaults are no longer merely based on the time you spend during them, in order to progress through an assault? Violence is the only method! Constantly running away without engaging enemies will do you no good! You must now kill a certain amount of enemies before it ends!
HOWEVER, even better! Killing enough enemies fast enough will grant you a HEAT BONUS, giving you a momentary break from the assault by making enemies unwilling to fight and run away, don't get cocky though, they'll eventually regroup and try again!
YOUR REACTIONS, ARMOR REGEN AND RESOURCE POSITIONING MATTERS!
Since player-side suppression has been partially changed to be balanced around having large enemy numbers attacking at once, and their accuracy has been lowered, this means that shooting back is quite often just as much of a valid choice as going back into cover, especially with perk decks that add more armor regeneration, as often enough, your armor will regenerate in the thick of battle!
Enemies deal fair and mostly semi-reactable damage now, with various reaction and detection delays suited to always keep them mobile, but never unfair.
And while special enemies like dozers are in fact, quite threatening, the player's overall survivability is a lot higher than in the original game, and armor should almost NEVER break in less than one hit from any enemy weapon.
Rather than allowing the game to become overly easy due to the over-abundance of medic bags, higher difficulties past OVK will reduce the player's downs and bleedout timer!
Mayhem, DW will reduce your 3 downs before gray to two, and reduce the bleedout timer to 25!
Death Sentence will reduce your downs before gray to one, and reduce the bleedout timer to 20!
Keep in mind, in singleplayer, a player has less chances to place a medic bag down, and their placement becomes a lot harder to weigh, and since the bots can't bring the deployables, difficulties will not change the bleedout timer, Mayhem and DW will not change your downs, and DS will only reduce your downs to two, to prevent frustrating situations.
EVEN BETTER TEAM AI!
Team AI has been improved significantly, being able to follow players and keep up with them much better, their weapon usages have been tweaked by me, as well, leading to them being way better at using a variety of weapons!
Their default weaponry has also been changed to better match their character! No more CAR-4 for everybody! For example: Chains has a KSP by default, and Dragan has his Lion's Roar!
NOW FEATURING A FULL-SCALE STEALTH REWORK!
INCLUDES A NEW MODE, 真 SHOOTOUT, WITH MORE AGGRESSIVE ENEMIES!
Enemies giving you too much of a break when you're fighting back? Do they not dodge enough? Maybe their reactions are still too slow even with all the ai changes? Maybe you think certain enemies aren't threatening enough? Or, maybe, as a stealth player, you believe the new changes to be too easy?
真 (Shin, "true"/"truth" or "reality") Shootout is my answer to that.
Shin Shootout effectively nullifies all stat-based effects that come from enemies being suppressed, such as accuracy or recoil penalties, and makes enemy suppression resistance much shorter, meaning that enemies will now be extra careful, dodging shots more often when suppressed, and attempting to break line of sight with the player to preserve their own lives and letting others take charge, and more importantly, continuing to fire their guns without break!
When Shin Shootout is active, enemies will no longer choose to walk. Ever! They will ALWAYS be running and rushing around as much as they can!
The mode also adds a few new twists, such as dozers running more often and the taser's tasing effect being much, much less lenient, with no more random, long breaks in your screen's shake!
Shin Shootout mode also disables bagging bodies while in Stealth, pick your kills wisely, or else!
NEW OPTIONS!
There are a lot of things I could have simply forced upon players but,I decided not to, because some people may prefer not having these enabled! (Either due to preference, or for mod compatibility.) Here is a list of options you can find in the Mod Options menu to further enhance the Hyper Heisting experience:
Extreme Helmet Popping:
Enhances the force and power of flying helmets, and changes the physics calculations for them to give flying helmets that feeling of extra oomph!
Stylish Assault Corner:
Enhances the [POLICE ASSAULT IN PROGRESS] hud area by adding extra flavor and reactive behavior based on how things are going! (Such as entirely unique assault text based on the faction you are fighting against! And more!!! WAY MORE!!!) NOTE: Requires restarting the heist if changed mid-game!
Extreme Difficulty Names:
Changes the difficulty names to suit Hyper Heisting's style!
Less Blurry Blurzones:
Gently reduces the blurring effect of things such as the Cook Off Methlab in order to stop them from getting in the way of gameplay!
High Priority Tells:
Adds a glint to high priority enemies when they're about to fire, and plays a ding! when they're within 3 meters to let you know your goose is cooked! (Note: All of this only applies if they're targeting you!)
albanian joke content:
And more...!
NOW FEATURING A NEW TRACK!
VxWolf has made a song for Hyper Heisting for the QUARTER-MUNCHER update, check it out at: https://soundcloud.com/vxwolf/welcome-to-hyper-heisting
FAQ:
Q. So Hyper Heisting is dead?
A. no lol
Simply put: If you wanna keep up with Hyper Heisting consistently? Just join the Discord server, or check the Github weekly!
I have never been too much of a fan of huge, fanfare-y updates, I work at things on my own pace, and while my development is actually quite active, releasing updates and making media, correcting this page, coming up with zingers and selling points (for something FREE!) takes WAAAAAAAY more time than anything that actually involves modding itself!
So I've decided to stop doing that, and focus on working on the mod itself instead!
Q. Can I play with other people who do not have Hyper Heisting?
A. No, Hyper Heisting has too many changes to be playable with other people who don't have it, it would desynchronize horribly, and possibly crash clients!
Q. The game is too easy now!
A: Let me know what I could do to make it harder! I'm always looking for feedback!
Q. My game is crashing with Hyper Heisting!
A. Before anything, make sure none of your other mods are changing the same functions or files my mod is, the most important and noteworthy ones are: CharacterTweakData.lua, GroupAITweakData.lua, and PlayerTweakData.lua, GroupAIStateBesiege, or any variants of CopLogic or CopAction.

If the mod crashes after the removal of all other conflicting mods, by all means, please join the discord and ask for help in #tech-support, and I'll see what I can do about it.
Q. Will my game's performance get affected by this mod?
A. It's actually more likely to increase! Thanks to Hoxi's wizardry and my own work, we've managed to get super fast AI with minimal/no performance loss of any sort! And, with some of our map edits, we've gone ahead and done optimization passes! Try the No Mercy heist as an example!
If there are performance issues, please do tell me, and I'll see what I can do about it to make it less impactful!
Q. Locke doesn't say anything when a Heat Bonus activates!
A. Sadly, Locke doesn't have celebratory voicelines for the Heat Bonus like Bain does, so he's silent when a Heat Bonus happens.
Q. The cops lose their neon colors when being healed by a medic/The specials lose their neon colored parts when being marked!
A. The real reason is because the self-illumination bloom effect does not work with contours...but I like to believe it's them nearly fading into unconsciousness.
Q. Why is Dragan featured so often?
A. N̝̮͑̐̐ͦ̐͘E̛̼͚̱̲̖̣ͪ̅͊͊̂ ̮ͭ̏ͣ́P̖̳͚͢I̢͎͎̪̾ͥ̊̑ͥ̚T̗̎AJ̷̲͍̼̫̼̳ͯͯ̇̇̈́T̗̤͖̯͒Eͯ͗̅ͦͦ̚҉͔̹͚͈ ̱̘̰͓̥̩̠͠Ő̻̬̻̜̉ͧ̓̚V̝ͪͣ͗A̜͈̼̲͕̘̼ͧͮͨͩ̂ͨ̆ ̹̣̜͙̳̙͊͗͐̌̇̕P̵̺̪͉̓͂ITͫͬͬ͂̏̚͟Ă̷̺̪͖͕̮̣̾N̥͇̼ͭͫ̂ͪ̽J̰̳ͩ̒A̻̮̯̟̝̲̦ͨ̍ͥ̾
CREDITS/THANKS TO:
Hoppip, for letting me include his mod in mine, after I accidentally balanced my entire thing around it like an idiot and didn't notice until the mod was basically finished.

The Crackdown Team, for being a huge inspiration, and providing excellent feedback.

Andole, for letting me use his dozer spawncap fix from The Fixes.

The Restoration Team, Jarey, Rino for lending me a few bits of their code, and allowing me to modify some of their assets to include in the mod. (Rino also made the self-illumination textures for the common mooks! And Jarey made the Murkywater Pistol Ninja's pistols!)

Rickerus, for the new Murky models and various texture edits to them.

badatnames for a variety of Crime Spree's new units, the Federales, helping me fix a few of the murkywater units, and various map edits!

Nelson01023, for a variety of assets, setting up the Bulldozer faceplate health, the Federales, and various XML fixes.

Davey, for making a sickass logo for the Shin Shootout update of the mod.

Pink, for helping with some asset management, making the new Truth Runes mask pattern and various map edits!

Offyerrocker, for helping me set up the mod options menu, and helping me figure out how to sync the Stylish Assault Banner and Heat Bonus mechanic!

Gambyt, for giving us the permission to use his Vanilla Improvement Weapon Rebalance mod as a starting base for HH's playerside rebalance!

The Rant-man, for implementing No Mercy: Ranted, and a variety of help with map edits!

Syntax Blue, for helping me test this ungodly mess for 2+ years and making me eventually engineer the entire mod around pissing them off, also for the EXCELLENT new shotguns and rifles for the ZEAL team!

TheShadowBunny, for trying to run triple saw builds on my mod and failing miserably several times.

Hoxi, for being a better coder than me and being huge help with everything! Also for helping me myurderrrrr a variety of vanilla bugs, and reworking tons of internal systems!

Major Pyatosin, for some of his assets used for the Murky Faction.

TEST1, for assisting us with fixing package-loading disconnect issues and implementing Voiceline Framework as a part of the mod! (just test1, right?)

Skwuruhl, for allowing me to use her spread fix in the mod!

Kana-chan, for being a really good Hyper Heisting player and letting me use their gameplay video on the modworkshop page previously!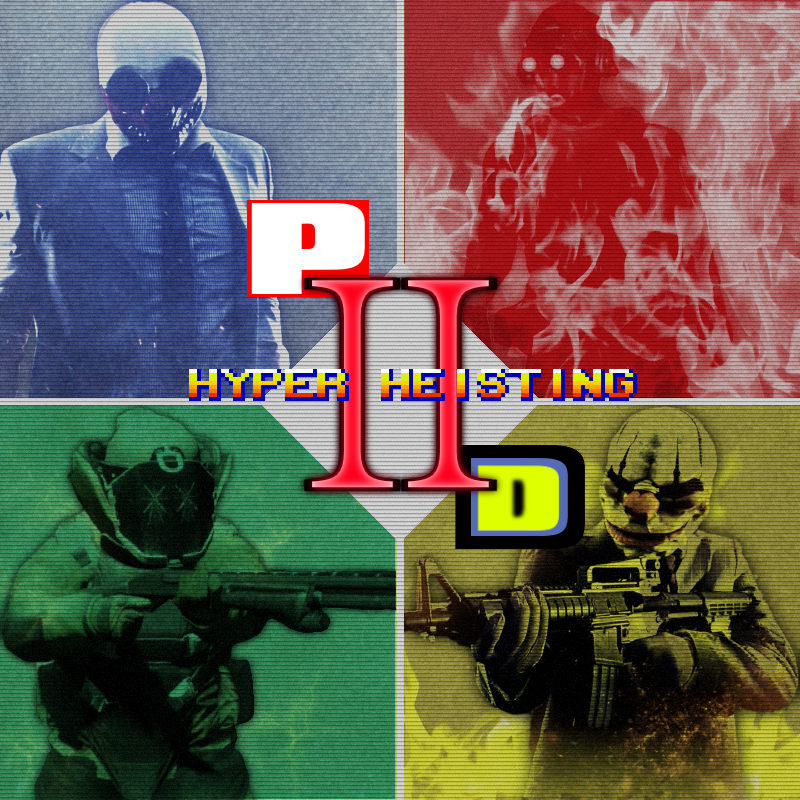 102
4,825
34,060
4 years ago